122 ZEPHYR – Presentation
The legendary
Very popular, the 122 ZEPHYR is an ultra-light mixed construction with a three-wheel landing gear. Since 2001, ATEC offers a lighter version than the original thanks to the use of carbon composite materials partially applied to its structure. The original ZEPHYR 2000 was renamed ATEC 122 ZEPHYR in 2007: its design, features and safety have been improved and now offer even greater performance.
The main differences between ZEPHYR and FAETA lie in the shape of the wing, its aerodynamic characteristics and applied structural materials. Thus, if the wing of ZEPHYR is laminar, its structure is a combination of fiberglass, wood and polyester. This makes it more financially affordable, while maintaining high performance. 122 ZEPHYR is most often offered to flight schools.
DETAILS OF EQUIPMENT INCLUDED (EXCLUDING OPTIONS) ACCORDING TO MANUFACTURER'S DEFINITION:
Rotax 912 iS 80HP engine manufacturer's warranty;
Fiti propeller;
VHF 8,33;
Equipped with parachute;
S mode transponder;
Conventional engine management instruments;
12-volt socket protected;
RAL paint finish at customer's choice;
Standard interior;
600X 6 wheels with hydraulic brakes;
Fuel tanks: total capacity of 60L (ext. 80l).
Ready to fly! Your 122 ZEPHYR delivered turnkey in the ATA premises, with ID card, radio compliance and full fuel.
Presentation of the 122 ZEPHYR
Although many structural and technological changes have been made since the production of the first version, the 122 ZEPHYR remains a legendary ultralight aircraft with its sleek aerodynamic design.
Particular care has been taken in the comfort and satisfaction of the pilot. A wide range of options in interior and exterior design are offered, equipment is customizable and the instrument layout on the dashboard is adjustable to suit the user's needs, constraints and habits. The goal is to give the customer the opportunity to express their creative ideas to personalize and appropriate their device.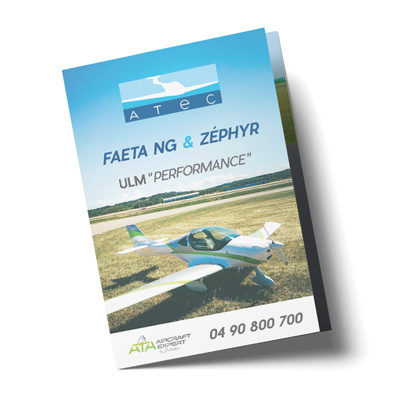 122 ZEPHYR: A LEGENDARY AIRCRAFT BY ITS QUALITY AND ATTRACTIVE DESIGN.
EXCELLENT FLIGHT QUALITY AND EASY TO FLY
EXCELLENT MANUFACTURING QUALITY
PRICES ARE VERY COMPETITIVE IN REGARDS TO THE QUALITY AND EQUIPMENT
EXCELLENT TECHNICAL SUPPORT
ATA by Pelletier distributes ATEC spare parts specific to 122 ZEPHYR. You will find below the catalog of spare parts to download.
For any order, we invite you to contact Amandine, a treasure of efficiency and skills.